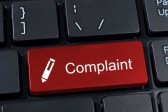 In addition to the formal responses to Hounslow about the Local Plan Consultation sent by CHRAG (read these in full here), the group has today lodged a complaint about the consultation process itself as follows:
Further to the representations made by the Chiswick High Road Action Group on the Local Plan Submission Draft, attention is drawn to a seriously misleading error in the Local Plan Consultation Statement.

We understand this does not relate to the Local Plan itself, however feel that this point should nevertheless be made as an addendum to our responses sent earlier today 29/4/2014.

The error is in the 'Summary of Comments per policy area for the Local Plan Policy Options 2015-2030' in section 5 that begins on page 15.  The first, and arguably the most important, of the policies is "Key Challenges".  According to the bar chart produced on page 15 as Table 4.3 and the pie-chart on the same page 59% of respondents disagreed with the key challenges for the borough.  Yet the text of the document reads, at 5.1:  "Respondents were asked whether they agreed with the key challenges for the borough, Majority (59%) responded they were in support [my emphasis] of the key challenges the Local Plan identified for the borough. . . . . "

This is surely a totally unacceptable, dangerous and key error that demonstrates an unsatisfactory, flawed and careless approach to consultation.  Furthermore the Consultation Statement fails adequately to deal with the level of disagreement as to the Key Challenges (even if 35%, but surely if 59%) and to demonstrate that proper account has been taken of the representations made.

It is to be noted that next policy area, Spatial Strategy, had the second highest level of disagreement and although that is accurately recorded in the narrative, the 'How these issues were taken into account' section is very weak and falls short of the satisfactory explanation required.

These are serious errors in the interpretation of key consultation data upon which readers are expected to provide responses, and calls into question the legal compliance of the consultation process.